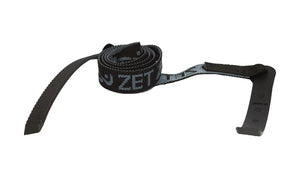 Replacement back strap for a Zet Veloc, Raptor or Five whitewater kayak. Made from black webbing with ratchet straps at either end to fit into Zet Ratchets.
We stock a wide range of Zet parts and spares including replacement hip pads and ratchets.
If you require any help or advice with repairs or services for your Zet kayak or any other boat please get in touch or visit us in one of our stores.
The Large strap is suitable for Directors and Toros.
The Small Strap is suitable for Velocs, Raptors and Fives.