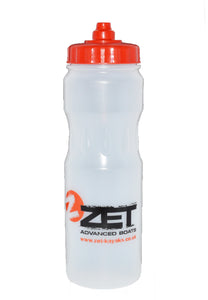 The Zet boats have a range of spares and accessories available for when yours have been used and abused and need replacing! The Zet drinks bottle fits nicely into the kayak with its own little holder fixed on the boat.
Are you looking for a drinks bottle you can use on the water. The new Zet Kayaks drinks/water bottle is the only one in the World specifically developed for use on whitewater. Yes, it is better than any other drinks bottle - if you're a whitewater paddler in either kayak or canoe.
Features:
Zet branded - so everyone knows you are THE MAN when it comes to awesome paddling ability.
BPA free polypropylene - you won't get poisoned by nasty chemicals.
MTB friendly - when it's not raining it fits into a standard bike drinks bottle holder.
Wide mouth - for loading with energy-giving and performance-enhancing powders.
Fast-flow teat - suck on this puppy for instant refreshment. And it doesn't leak.